Eventbrite Global Navigation Help Menu [2017]
Eventbrite has an extensive knowledge base of help content for organizers, but these articles live in a help center that's separate from the core product. We built a new help menu into the Eventbrite global navigation so organizers can find the resources they need right from the product—and we get data on what users are searching for and finding helpful (or not).
Building the right menu interaction was complex from a content strategy, UX design, and technical implementation perspective—but the final outcome was leaps and bounds more relevant to our organizers than the previous experience. In addition to searching our knowledge base, the menu returns short links to relevant product areas, guided help, and curated blog posts, creating a comprehensive search without leaving the core product.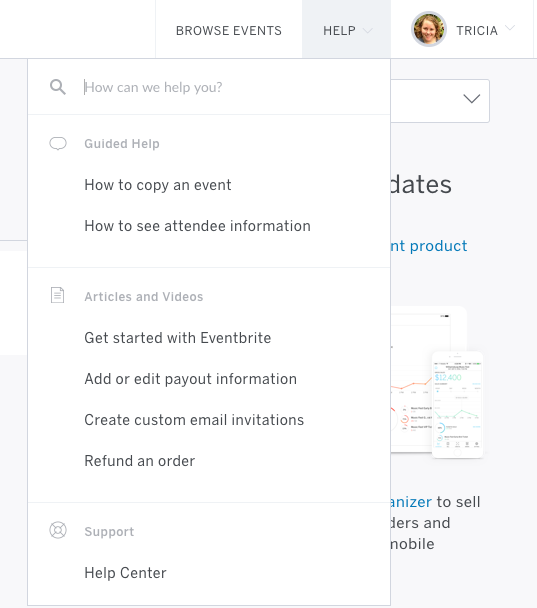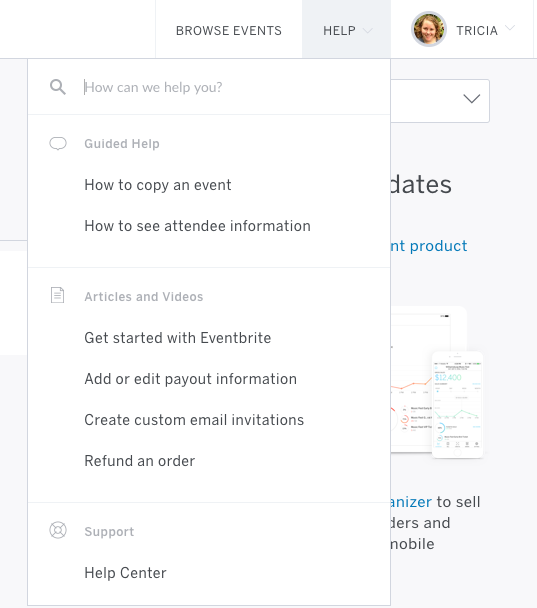 Eventbrite Chat Support Program [2017]
When Eventbrite's customer support department tiered customer service levels, the vast majority of users started to receive email-only support (previously, phone support had been available to everyone at an unsustainable cost per contact). These customers, however, needed real-time support, and the frontline team was struggling to keep up with the email queue.
My team wanted to create a win-win chat experience that provided great real-time support for customers at a higher efficiency level for the frontline support team compared to email and phone channels. Through in-depth research, we realized that achieving both goals required tooling improvements on the backend as well as improving user experience for customers. After launch, we saw a 50% improvement on frontline efficiency and a doubling of customer satisfaction ratings compared to email.
Eventbrite Content Marketing Partnership [2016-2017]
Leveraging my team's product expertise and writing experience, I wanted to expand their skills from technical and UX writing to marketing writing as well—and help other Eventbrite teams reach a larger audience. We worked with our content marketing team to create a series of customer- and product-focused blog posts to help drive marketing-qualified sales leads, with recruiting to create engaging culture-centered posts, and with engineering to share Eventbrite's approach to shipping code.
Event Accessibility Content Marketing

Customer Insights Blog Series

Recruiting Articles

Engineering Articles
Eventbrite Chatbot Experiment [2016]
Every year, millions of customers buy tickets on Eventbrite for live experiences around the world. As a SaaS platform organizers use to run their own events, Eventbrite doesn't know all the information attendees reach out for help on. Still, the support team gets thousands of contacts a month asking for help and it's costly and difficult for reps to respond to all of them fast enough.
Partnering with two large music festival customers, our cross-functional team set out to give customers real-time information while significantly reducing customer support overhead for both Eventbrite and our organizers. The results taught us a lot about how to better define a chatbot product and content strategy.
Eventbrite Contact Support Flows [2015-2016]
For years, Eventbrite's contact page lacked centralized ownership despite being the key entry point for all customer support interactions. The page was hard-coded and not mobile-optimized; made poor use of available help center resources; and wasn't built to recognize different customer tiers. We set out to build a user- and mobile-friendly page that could be content managed directly by the customer support team while allowing the business to tier customer support for the first time.
My team's work improving how resources surface resulted in drastically higher self-help engagement and negative year-over-year contact rates. There were several phases of this work to launch the experience to an additional 16 locales, build out automated email workflows with successful resolution rates above 80%, and further refine and improve user experience.
Eventbrite Help Center Redesign [2015]
With a solid foundation in place for how help content is created, Eventbrite was ready for a content-first redesign of their customer help center. The existing Desk.com template site didn't allow for structured content and wasn't mobile-optimized, provided limited insight on customer feedback, offered poor browsing and search experiences, was difficult to maintain and even harder to translate, and provided no framework for an internal knowledge system.
We wanted to create a structured knowledge base that would work well for customers and help scale a growing support team. We used Salesforce Knowledge to create structured article types and built a frontend experience to take advantage of those formats in flexible, predictable ways. In addition to standardizing articles and ensuring only reviewed content made it into the new system, we created a Getting Started product video tour and a robust article feedback system for both customers and reps. The backend system is integrated with Salesforce Service Cloud, allowing reps easy access to product documentation and email templates all in one place. Within its first year, the new support site doubled the number of customers using self-help resources instead of contacting the Support team.
Eventbrite Help Center Article Content Strategy [2014]
Eventbrite had a growing user base and increasing customer contacts but lacked a cohesive approach to providing documentation, troubleshooting resources, and education for customers. Help Center articles were inconsistently created and poorly maintained, making them less effective at allowing customers to self-help. I audited all existing help resources and created a cohesive structured content strategy and brand-aligned support style guide; the end result was a total content overhaul combined with establishing a scalable content governance framework.
The Mailbox [2013]
The Mailbox—a trusted print resource for teachers across the country for decades—wanted to expand their product offering and create a subscription model that reached modern teachers early in their career. In addition to helping the team reimagine their site, we produced a long-form brand campaign in their print magazine focused on championing teachers with a one-stop-shop classroom resource platform. Based on a large amount of consumer research, I worked with a design team to create full-page ads that captured both the joy and challenge of teaching.
For two years, my agency had been waiting to launch the andCulture Lab due to lack of content. Given the abundance of sheer raw material from my coworkers (I'm privileged to work with some very smart and opinionated people), I wanted to see it come to life. While I wrote several of the first new articles, I made it my mission to help everyone on the team contribute in some form or fashion through editing, ghostwriting, and simple encouragement. Launched in late November 2012, the blog attracted by-lines from every agency discipline within a month and became a cornerstone of the company's thought-leadership.
Amish Furniture of Bristol [2012]
Working for Project A Game, I created copy for seasonal print advertisements and website rotators. The local furniture company wanted to emphasize the American-made nature of their furniture as well as its quality through a quirky, engaging brand voice.
Serving as both content strategist and project manager, I worked with a small team of two designers to develop a breadth of offline and online branding materials for andCulture's client 403 Labs, an information security leader. The project required strong client communication skills to coordinate a large number of deliverables. As a content strategist, I helped 403 Labs intentionally add a substantial amount of content to their online presence as part of their repositioning their services.
Janrain.com [2012]
As a content strategist working closely with a designer at andCulture, I led a comprehensive content overhaul for Janrain.com. Working closely with the client's internal marketing team, we reworked every piece of content on their site in order to reposition their products as a cohesive platform.
Bust Magazine [2011]
I wrote this brief article for the Dec/Jan 2011 issue of Bust Magazine. Their "Old School" column features recipes and the stories around them from older generations. The publication caters to smart women ages 18-35 and requires a fun, conversational tone.
HCAR Australia Campaign [2011]
The Hershey Center for Applied Research wanted to target Australian business leaders in order to attract additional Aussie businesses to the Central Pennsylvania area. I worked with existing HCAR-approved copy and an andCulture designer to create a microsite for the campaign that highlighted HCAR's selling points in a compelling way.
Mount Nittany Health [2011]
First as a copywriting freelancer, then as a full-time content strategist, I worked with andCulture to push Mount Nittany's major redesign to launch. I worked directly with Mount Nittany staff to create about 250 pages of patient-focused content.
As a freelancer for KGaps Consulting, I ghostwrote several blog posts for the Max Living blog, which caters to business leaders and requires an approachable, inspiring tone.